About me
Edit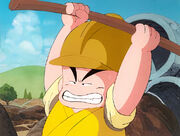 Hello Dragon Ball community! I absolutely love anything Dragon Ball, Z, and/or GT. My favorite characters include practically anyone with Saiyan blood and the main villains(canon & non-canon). Goku would probably be my most favorite as I have followed him from Dragon Ball, through Dragon Ball Z, and all the way to the end of Dragon Ball GT. Vegeta is such a dynamic character, that its hard not to like him either. Their fusions can be sometimes too cocky but they are powerful and likeable, though in real life I hate cockiness, trash talking etc. My favorite movie would probably have to be Tree of Might. For me, Dragon Ball GT wasn't as bad as people say it is, though it did have numerous plot holes which made it seem like trash in the end. Super Saiyan 4's design was pretty cool, though the anime did make Goku, Vegeta, Gogeta, and Uub the only characters who actually do stuff in the entirety of the series.
Watching and reading Dragon Ball/Z/GT has been a very exciting experience for me. It's wonderful that Kai will be airing here again, which will allow for more exposure to this timeless classic. With this site, it is my hope that a huge amount of people will appreciate the masterpiece that is Dragon Ball/Z/GT (Yes, even GT).
Ultimate Gohan/Super Saiyan Gotenks/Super Saiyan 3 Gotenks vs Super Saiyan 3 Goku & Super Buu vs Kid Buu
Edit
Using Herms translations from DaizEX, to keep as much as possible unbiased. If not Herms, using mangareader.net. Order of priority is Herms > mangareader.net; If I don't use Herms, it was because I wasn't able to reach a comment or something by him
One of the discussions about Dragon Ball that I see from time to time is who is the strongest hero in the
Buu saga minus Vegito; the obvious 3 contenders for that title are Goku, Gohan and Gotenks. Goku is the strongest out of the 3 for many reasons.
First off, let's be clear that there are 4 variations of a Super Saiyan 3 that exist, with this claim stemming from 2 comments in the manga. The 1st comment can be seen in Chap. 477, Pg. 9 (mangareader). Goku tells Piccolo that Super Saiyan 3 should only be used in the afterlife, and not on Earth/the living world, because "it uses too much energy" and "you instantly get worn out" (both quotes from the same page). The 2nd comment is on Chap. 514, Pg. 1 (mangareader); Goku says "It takes too much energy in this living body to sustain Super Saiyan 3". So from those 2 comments we have 4 factors; those 4 being 2 locations and 2 body statuses: Other World, living world, being dead and being alive. Goku already knew about the form's weakness in the 1st comment but was surprised to learn about a weakness in the 2nd comment (His "What's going on?" on Pg 8 of Chap 511 (Herms) obviously means he doesn't know what's happening and with our knowledge of alive people being in Other World (Goku, Cell, King Kai, Hercule, Dende etc.) we know that the comment in Chap. 477 (mangareader) is in reference to being in the living plane as opposed to the afterlife). So to recap real quick, what are the weaknesses of using SSJ3? It uses too much energy to sustain the form in the living world as opposed to Other World, and a dead body uses less energy to sustain the form as opposed to a living one. In addition, as seen in the Goku/Kid Buu fight, there is a point where you lose instead of gaining power as a SSJ3 whilst being alive. So in all we have 3 weaknesses, and varying power levels a SSJ3 user can reach because of these limiters. Again, there are 4 variations for a SSJ3 to be in.
Now let's look at the panels where people usually deduce that Gohan & Gotenks > Goku. The 1st most relevant panel is on Pg. 12, Chap. 506 (Herms) where Goku says "Wait! Even though Boo has returned to normal a whole lot, we're still simply no match for his strength! If we go outside like this, we'll definitely be done in…!". Over here, since Gohan and Gotenks had the power to kill Super Buu, and Goku did not want to fight Super Buu, people deduce that Gohan & Gotenks > Goku. Well, readers are in part true if they deduce the former; Goku at this point would lose against Super Buu because he is on Earth. Again, Goku knows about the weakness of being on Earth, and he knows he would not be able to gather the ki needed to fight with Buu. Knowing this, he wants to avoid a fight because the ki draining limiter would be too great a factor in that sort of fight; this was why when he was inside of Buu, he immediately went SSJ instead of SSJ3 to fight Super Buu. This doesn't make Gohan and Gotenks stronger than the other 3 versions of SSJ3 Goku though. Now, let's remember that this is the same situation Gotenks was in. And one would be correct, it was. But what Gotenks had that Goku didn't was the stamina of 2 beings, with those 2 beings being youthful, hybrid Saiyans. Let's remember that Metamorese Fusion combines the 2 physical aspects of 2 people who are of similiar power and size. So, Gotenks had the stamina to override not only the living world limiter, but the alive status one as well (something no one knows about till the Kid Buu fight). We never see him get exhausted from using SSJ3. Goku, who was dead, was tired after his fight with Fat Buu. With hybrid Saiyans, who have a potential to be stronger than their Saiyan parents, and having youth on his side, Gotenks is able to overwrite the SSJ3 limiters. He wasn't completely able to override it though as it shortened his lifespan from 30 min to 5 min, so there is still a hindrance. So, with this info, what does this mean? If we use Chap. 500, Pg. 13 (mangareader) (where we get Gohan > Gotenks) in addition to all the other mentioned info, we get the following: Ultimate Gohan > SSJ3 Gotenks (alive, on Earth) > SSJ3 Goku (alive, on Earth). This shouldn't be too new for proponents of Gohan and Gotenks. Now, going by this logic, shouldn't SSJ3 Gotenks (dead, in Other World) > SSJ3 Goku (dead, in Other World)? We will save this for later in the page.
Now that we understand why Goku didn't want to fight Super Buu, we can move to the other panel on Pg. 9, Chap. 476 (Herms) where Goku says someone stronger than him will fight Buu. This is wrong just because he never told Buu this. Goku never EVER mentioned that this guy (Gotenks) would be stronger than him to Buu. In addition, Goku's judgment throughout the Buu saga was terrible; thinking Majin Vegeta would not kill anyone, getting knocked out by Majin Vegeta, him thinking Gotenks could beat Buu, throwing the Potara to Gohan, and thinking he could fight Kid Buu by himself are all examples of this. If one wants to disregard the judgment sentence, the fact that he never told Buu that this guy would fight him is more than enough to make the statement null. Even Herms himself puts a note under this translated quote: Goku actually never told Boo this (apprently he's gone senile in the afterlife).
Another panel that infers Gohan & Gotenks > Goku is on Chap. 476, Pg. 10 (Herms) where Goku says "Nah, I don't know…When it comes to Majin Boo's strength, it's like a lie…I think that I probably couldn't have won…". This is after he fought Fat Buu (who is weaker than both Super and Kid) as SSJ3 to help Trunks find the Dragon Radar. Before his fight against Kid Buu, he says the exact opposite where he says he could have won (Pg. 11, Chap. 509, Herms) but he didn't so that the boys could do it instead. The exact quote is "Is that alright? You just might not get your turn…I can say this now, but the truth is that with that fat Boo, I would have been able to defeat him at the time with Super Saiyan 3…However, I wanted the young guys to manage something…For the Earth's sake too…". Due to the obvious continuity, that panel in 476 (Herms) is rendered null.
In Chap. 503, Pg. 10 (Herms) we have a panel where Goku powers down from SSJ3 and tells Buutenks that "This way, Gohan will be able to beat you even on his own…". Again, this is useless for our argument as this only proves Gohan > Goku (alive, on Earth) because Goku knows about the weakness of being on Earth (he only turned SSJ3 previously to protect himself when Buutenks was rushing him). Why should he fight Buu when Gohan is there? It would be an unneccesary waste of ki and provide unneccesary stress on his body. Also, having Gohan be the one to kill Buu would reinforce his belief that the new generation of Earth's protectors should do things themselves (Chap. 476, Pg. 11, Herms).
In Chap. 508, Pg.3 (Herms) Goku and Vegeta are not intimidated by the appearance of Kid Buu. And since they were intimidated against Super, and because Gohan pummeled Super, U. Gohan > Super > Goku > Kid right? Dead wrong. For one, this is the same reaction Vegeta had against Cell when he achieved his Perfect Form; "...Not very impressive for a "Perfect" form" (Chap. 382, Pg. 11, mangareader). Obviously, this notion was put to rest when Cell KO's Vegeta with little to no effort and he tanks his kick. In addtion, after Goku thinks he and Vegeta can win, Goku later regrets not using Fusion against Kid Buu; "Dammnit...If it was with the Potara, I could have done it in one blast. …..Cheh...I guess I went and showed off too much. But I thought things would go a little better than this…!" (Chap. 510, Pg.13, Herms). As you can see, Goku's initial reaction about Kid Buu was wrong. Also, a very important quote here is made by Vegeta on Pg. 12 of Chap. 510 (Herms); "Hmph…Don't try sparing my feelings…The truth is you were right [that I'd be killed]. That Boo is stronger than I imagined…And so are you, Kakarot…". Clearly, their initial reaction in Chap 508 (Herms) is very very wrong. Due to continuity, this panel is also rendered null.
Now that we have sifted through almost all evidence relating to why people believe Gohan & Gotenks > Goku, you must be asking how do I prove Goku (dead, in Other World, or both at the same time) as stronger than either Gohan or Gotenks. In order to do that, I have to gauge the levels of the Buus, the primary antagonists and the opponents whom the 3 heroes fought. Let us make something clear before we begin: Supreme Kais and Majins are opposites of each other. 3 things are shown to support this: 1) Kai energy cannot be used to ressurect Buu; In Chap 448, Pg. 11 (mangareader), Dabura says "We cannot use Kibito's or the Supreme Kai's ki to ressurect Buu". 2) Vegito seperates into Goku and Vegeta inside Buu's body; this a permanent fusion, one that was explicitly associated with the Kais. The fact that a permanent, Kai-related fusion was dissolved in Buu means they cancel one another out. And 3) Absorbing Grand Supreme Kai made Buu weaker (said in almost all dubs of the manga). The reason I stress this is because many people assume that absorbing the South Kai made Buu stronger. How can this be possible given the 3 previous reasons? The answer is it is impossible and thus it is only logical to say that South Supreme Kai made Buu weaker along with Grand Supreme Kai. In addition, in Chap. 508, Pg. 4 (Herms), Kibito Kai says "….Yes…the heart which he gained by going so far as to lower his power through absorption[s]…has returned once again to the way it was…he has no self-control whatsoever…he has become evil itself…". Right there, in the true Japanese dub, we have Kibito Kai saying the Kais Buu absorbed weakened him. With us knowing that Buff Buu > Super Buu (Chap. 507, Pg. 13, Herms), and Fat Buu > Evil Buu > Good Buu (for obvious reasons), we can put together the following strength chart: Kid > Buff > Super > Fat > Evil > Good/Mr. The only forms of Buu that are missing on this chart are Super Buu's Absorbed forms.
We know for a fact that Buuhan > Buutenks > Buucolo for obvious reasons. In Chapter 499, Pg. 11 (Herms) Buutenks says he has become "the strongest Majin". This is the part where whoever has been following me so far must be aware: He's not referring to Kid Buu. Why? Because we as readers have not seen Kid Buu. Kid Buu has not made an appearance at that point in the manga yet. He cannot be referring to something we as readers have not seen or heard of at that point​. The only Majins who he we have seen or heard about at that point are: Spopovich, Yamu, Bibidi, Babidi, Pui Pui, Yakon, Dabura, Vegeta, Fat Buu, Good Buu, Evil Buu & Super Buu. Buucolo, Buuhan, Buff Buu and Kid Buu have yet to make an appearance. In Chap. 499, Pg. 11 (Herms), Buutenks also says "…What do you think, Gohan? My strategy succeeded safely. Look, isn't it magnificent? This is a moment that will never appear again, no matter what the future may hold: the birth of the strongest majin." This statement is automatically debunked with the debut of Buuhan, thus showing that him being the strongest Majin is false. With that cleared, we also know Goku wanted to fuse against Buuhan and Buutenks. Both of those should put them at the very top. But let's remember, they still have the Kai limiter inside them. However, lets hold off on that for a minute and return to the strongest hero portion.
So for now we have established that Gohan and Gotenks are stronger than SSJ3 Goku while he is alive and on Earth. However, what about the other 3 possible versions of Goku? Let's take his Fat Buu appearance (dead, on Earth) first. He's already stronger than Fat Buu at this point. Now let's compare this variation to his Kid Buu appearance (alive, on Other World). This 2nd variation is shown to be far more efficient than the 1st one as he fights for a lot more time without getting exhausted (until the very end that is) while Goku loses a lot more energy while just stalling against Fat Buu. In fact, he "gathered [his] ki close to full power" (Chap. 512, Pg. 1, Herms) against Kid Buu (in his attempt to finish him in one blow). The best thing to do over here would be to assume that the 2nd variation is stronger given his feats that we've actually seen. The offscreen 3rd variation, the first in which Goku transformed into SSJ3 (dead, on Other World) is easily the strongest given that there are no limiters. Now, lets zip to the Spirit Bomb moment, the one with the Nameks, Earth's, Other World's etc. ki. Vegeta says he doesn't want Gohan and Gotenks to fight Kid Buu (Chap. 514, Pg 7, Herms); he had no reason not to know about their new powers as he saw Super Saiyan 3 Goku from Other World (Chap. 504, Pg. 10, mangareader) as well as the Fusion dance (Chap. 506, Pg. 13, Herms). Vegeta says no, and puts more faith in the doubtful Spirit Bomb (a technique that hasn't worked yet, that too against the final villains of their respective sagas); eventually Goku does too and finds this more effective than having Gohan and Gotenks fight. This proves Kid Buu's superiority over Gohan and Gotenks. Since SSJ3 Goku had the strength to kill Kid Buu as the 2nd variation, we can now say that at the very least SSJ3 Goku (alive, in Other World) > U. Gohan > SSJ3 Gotenks (alive, on Earth). Well, what about SSJ3 Gotenks's other variations? Well, he doesn't have any. This is because he can already override both the limiters when he's at the most disadvantageous scenario: alive and on Earth. And the 4 factors would not have any effect on his time limit, since the Metamorese have no affiliation/link with being alive or dead or with being in the living world or Other World. And since it wouldn't have any effect where he was or how he was, and since he's weaker than Kid Buu, the previous mentioned power chart is valid. (Since the Gotenks variations are no different from each other, I'm just going to refer to him as SSJ3 Gotenks).
So for now we have the following power level charts:
Buuhan > Buutenks > Buucolo
Kid Buu > Buff Buu > Super Buu > Fat Buu > Evil Buu > Good Buu
SSJ3 Goku (dead, on Other World) > SSJ3 Goku (alive, on Other World) > U. Gohan > SSJ3 Gotenks > SSJ3 Goku (alive, on Earth)
Now let's talk about Kid Buu one more time. Goku says Kid Buu was toying with him while fighting. Kid Buu effortlessly beats Vegeta and Mr. Buu. What I'm saying is, we never see Kid Buu's full power until the Spirit Bomb struggle (there is no reason why he wouldn't power up to the max to defend his life). So can we say Kid Buu is stronger than Goku? Taking into account the theme of strength in numbers (in this manga) as opposed to one-man armies, you could. It really is hard to say, but given one of Toriyama's interviews in Shonen Jump where he said little people are stronger than most other people, you could say Kid Buu > Goku. Also, at the tournament at the end of the manga, Goku does say that he wants to fight against Buu "at 100% of his stamina" (Chap. 518, Pg. 10, Herms). This implies that even after 10 years, Goku still thinks Kid Buu would be a challenge (we know this is Kid b/c this is the Buu Goku asked to be reincarnated). So, it wouldn't be dangerous/flawed to say that Kid Buu > Goku.
In relation to Fat Buu & SSJ Gotenks, let's remember that Goku's judgment was haywire during the saga, so I doubt that SSJ Gotenks is anywhere near Fat Buu's power. Also the fact that Goku himself never tried it adds more uncertainty to him telling the truth. Also, Buu did not have the ability to sense ki until he turned into Super Buu (Chap. 486, Pg. 12, Herms). This can also explain Fat Buu's smile towards Goku when they first fought.
We are almost towards the end of this discussion, but we need to revisit a panel in Chap. 501, Pg. 10 (mangareader) where Elder Kai says "Majin Buu will come here also" with here referring to The Kai Planet. We already know that The Kai Planet is in Other World since Goku can't go back to the mortal plane after his time is up. So this means that might be a way for Buutenks to come to Other World and fight a dead Goku there. However, Elder Kai wants to prevent this and gives Goku the Potara to fight against Buutenks while he is alive. Why? Chap. 510, Pgs. 8 & 9 give us possible reasons, the most probable being he didn't want the Kai planet being blemished. This holds truth because he discouraged the use of the Dragon Balls, showing he had some respect for the natural ways. Also, since there is no plausible way to get to Other World except for IT, it is likely that this would not happen. In addition, Elder Kai has no idea of Goku's power or what he's capable of since he's never seen him fight.
So with all that, here's my personal power level ranking (1 being strongest etc):
1. SSJ3 Goku (dead, on Other World)
1. SSJ3 Goku (alive, on Other World)
1. SSJ3 Goku (dead, on Earth)
1. Kid Buu
2. Buuhan
3. Buutenks
4. U. Gohan
5. SSJ3 Gotenks
6. Buucolo
7. Buff Buu
8. Super Buu
9. SSJ3 Goku (alive, on Earth)
10. Fat Buu
11. SSJ Gotenks
12. Evil Buu
13. Good/Mr. Buu
The 3 variations of Goku at the top can all achieve or can almost achieve full power as Super Saiyan 3, so their position is justified. He can wipe out Kid Buu at that level, but the fact that he thinks Kid Buu would be a challenge after 10 years is just a testament to Buu's strength. For that, all 4 are tied at #1 (remember this is minus Vegito). Buutenks and Buuhan are where they are simply because of the Kai limiter they have, something that took effect even after it was severed (Kid Buu later spits Good Buu out when he fights Hercule after he feels some effect). Also, Buuhan says a probable Metamorese Fusion between a living Goku and dead Vegeta on Earth would be no match for him (Chap. 503, Pg. 9, Herms). However, let's remember that Buu only felt Goku as a SSJ3 at his weakest (against Buutenks). In addition, he can use the knowledge of the Z-Fighters to remember the PL's of Goku and Vegeta when they fought Fat Buu. However, since Vegeta is pretty much nonexistent, and b/c Goku never went all-out as SSJ3 (Buu never realized this b/c he couldn't sense ki as Fat), we can say that Buu's assumption is underwhelming because he's only basing it off what he knows and not how strong Goku could be. However, me putting Buutenks/han underneath Goku and Kid Buu is not definite, as that is highly debatable. I put Buff Buu where he is just because all the others are bounds above stronger than Frieza and we haven't seen South Supreme Kai in action, whereas we have against the others. Even Piccolo was stronger than Frieza so I put Buucolo above as well. SSJ3 Goku (alive, on Earth) is above Fat Buu simply because he dominated Fat Buu while dead without going full power. I could see him winning barely in a fight against Fat Buu. SSJ Gotenks I feel is more than enough to beat at least half of Fat Buu's power so he sits at 11 and above Evil Buu.
Agree with it or not, love it to death or call me a retard, please leave comments somewhere and thanks for sticking around to the end of this god forsaken agrument/s. I might get around to putting Vegeta on here at some time. Thank you for your time!
My contributions
Edit
My favorite pages
Edit