Hello! I'm just one of thousands of DBZ fans.
You can just call me SS7S if you want.
I was an Anon for about 3 months before joining.
As you can probably tell by my profile, I'm ok with Wiki-coding to an extent, and can help if needed.
~For a custom signature or chat hacks, check out the box at the top of my talk page.~
My Sandbox—for sandbox purposes.
--Mostly just a quick-access link for me--
For Wiki color codes, CLICK HERE.
Super Saiyan 7 Somebody

Anime name
I'm in an Anime?
Manga name
I'm in a Manga?
Alternate names
SS7S
Race
Saiyan; Part biological-android
Gender
Male or Female...or Shemale?
Date of birth
On a day, sometime during a year
Date of death
Do you really think I am dead?
Height
In feet or inches? Or millimeters?
Weight
In pounds? Or grams?
Address
Somewhere on Korriban, Dark Planet, or Zebes.
Occupation
Being a Super Saiyan 7
Allegiance
Un-allied
Likes
What I like
Family
Parents, Grandparents, Great Grandparents, Great Great Grandparents, etc. etc.
BUTTONS!!
Each button links to something different; have fun:
Visit the Wiki Go to the chat Go to the blogs
A Wiki I adopted Another Wiki I adopted Community Central
I am booooooooooooooooooooooooooooooooooooooooored
What-if Goku pic What-if Bardock pic What-if Broly pic
Super Saiyan 7 Somebody - SS7S is so bored.
TALK - 04:48- 05 23, 2013
This is mah ... I don't know. But I'm bored. And this is a random picture.
Not really that complicated, but kudos if you figure this out.
Image of the While
As the title implies, I will add an image/GIF every once in a while I find interesting.
Credit for all of these: From Encyclopedia Dramatica—except the 'My Foot book' and the GIF about Nail and the bird, which were found by Dark Seeker Kotsu and MASTER SPECTRA, respectively.


ROFL. Not sure what this means, but I like it XD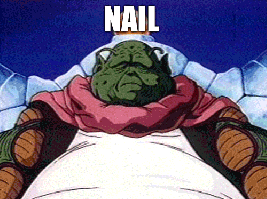 Archive of previous Images
Non-DBZ

"You turn the alarm off, which triggers the alarm tampering alarm."

...

"In the meantime, the excess noise level feedback alarm has kicked in."
—The GM, when R2-D2 turns an alarm off; Episode 797, Darths and Droids

"I SMELL COOKIES! *runs downstairs*
*only a candle*
FUUUUUUUUUUUUUUUUUUUUUUUUUUUUUUUUUUUUUUUUUUUUUUUUU "
—JanembaFreak97

"If someone bumped shoulders with you 2 weeks ago, I bet you would still remember it and plot revenge against the guy"
—CoolCat123450 to Vegito 7900, after the latter brought up an old argument

"This right here I believe is an April Fool's joke, and if they wanted to do something funny this wasn't it. I fell for it too which sucks. It will be dubbed to English but they don't have a release date for it yet. That's what I actually heard from a source on youtube. "

""Source on YouTube."

"on YouTube."

"YouTube.""
—Anon and 10reapaer01

"I know you're there so just say hello you rude bastards"
—Tjakari in Chat

"it's like GameFreak is against Players ever clearing their games 100%"
—WaterKirby1994, about a Pokémon game

"Well I stepped on a random black square thing with five needles sticking out of it.
Apparently people just throw their spare death traps into each others backyards nowadays"
—Dark Seeker Kotsu in Chat

"How dig is your bick SS7S?"
—Destroy Us All, after I said "I HAVE A DIG BICK" in chat

"to tell that it's a LSSJ the super saiyan's pupils disappears and your muscles grow bigger.Goku made broly mad when they were just born on the same day.that's how broly was able to turn into a LSSJ.Goku can't become LSSJ because he doesn't have the same rage as broly."
—An anon's logic for why Goku can't become a Legendary Super Saiyan
DBZ

"Buu hungry."
—Majin Buu, after eating about 30 cakes and hundreds of pieces of candy.

"Nappa was a loyal servant, and a true warrior! You will suffer for what you've done!"

"Are you crazy?!.. He would've been alright! You're the one who blew him up!"
—Vegeta and Goku, Dragon Ball Z: Budokai

Yajirobe: *Sneaks up behind Vegeta with sword*

"You fool... You think I can't hear you back there! Sneaky...that's what I like about you... Hey...come on, join me."

"No way! Forget it! I'd have to be crazy! You'd just kill me like you did your last partner."

"I gave Nappa a noble warrior's death... It was what he deserved... He was a Saiyan!! *Transforms into Super Saiyan*"
—Yajirobe and Vegeta, Dragon Ball Z: Budokai
Note: This occurs during the Saiyan saga (Season 1)...

Paragus: *Enters Saiyan Pod*

"Where do you think you're going, Dad?"

"I-I-I'm preparing the rocket so we can escape the explosion!"

"In a rocket built for one person?"
—Paragus and Broly, Broly The Legendary Super Saiyan.

"Come on, how far is it?"

"Not too far; we have to go down a few flights to reach them."

"Down? After climbing up all this way?"
—Super Buu and Piccolo, Time Struggle

"Oh yeah, he's gone! Alright! I should've known. Nobody wants to mess with the mighty Mr. Satan. No siree. I am the king. Ahaha. I don't blame him. I'm twice the size of that big sissy. He didn't want any of this anyway. No way, baby! Ahahahahahahaha-" *Looks up and sees Super Buu above him* "Gee, hi Buu! Nice day!"
—Mr. Satan, thinking he scared away Super Buu, when the latter was hovering above him

"Hey! Yeah - now I get it. Ahaha - this is all a dream. Ahahaha - just a silly old dream. Of course, of course. Now it all makes sense. First of all, there couldn't be someone stronger than me, the undisputed martial arts champion of the world. Hnhnhn! Secondly, pink monsters like Buu don't exist. And neither do purple people with pointy ears now do they? And there's no such thing as little green men that guard the Earth from evil."

"But, sir—"

"And how absurd is this." *Raises arms up at the sky* "Look at all those moons!"
—Mr. Satan and Dende, with Mr. Satan deciding what he thinks is real while on the Sacred World of the Kais

"It's all a trick!"
—Mr. Satan's explanation for something he can't explain

My favorite fight would be the Z-Fighters vs. Hatchiyack (2010 remake included in
Raging Blast 2
). Despite being in Japanese, it was just so awesome. There was some blurry subtitles that I was able to make out sometimes as well. Great music too.
My second favorite fight would probably be Bardock vs. Dodoria's Elite. The fight was awesome, the music too.
Explosion of Anger
was a good episode, as well as
Frieza Defeated!!
(and it's follow-up
Mighty Blast of Rage
), I liked them (not the recap part of Frieza Defeated!! though, just Frieza's end). I also liked
Sacrifice
, someone besides Goku/Gohan/Vegeta/Future Trunks does something. And...
The Evil of Men
and
Buu Against Buu
, it was great to have Super Buu emerge. And then
Evil Kid Buu!
, Super Buu was getting somewhat boring.
Reviews
Episode of Bardock

was a bit of a disappointment to me; the fight between SS Bardock and Chilled was way too short.

The History of Trunks

was alright, I liked it.

As stated above, I loved

Plan to Eradicate the Super Saiyans

.

As stated above, I liked the fight between Bardock and Dodoria's Elite. Brief, but awesome. The overall movie was kinda sad though ._.

For

Dragonball Evolution

, I was surprised. With all the hatred I've seen against it, I was surprised to find I kinda liked it. My complaint is that they could have done some hair styles/colors better.

I generally liked the

DBZ

movies, with some complaints.

The fight against Garlic Jr. in Deadzone was kinda boring.
Lord Slug's death was kinda fast, Goku burst through him quite easily, and gathered the Spirit Bomb energy kinda fast.
The fight against Cooler was boring, and too short.
The fight between Broly and Trunks and Goten was boring.
Janemba was screwed the instant Gogeta appeared.
Goku seemed to draw his strength for the Dragon Fist against Hirudegarn out of nowhere.
Which game would you like to see the most?
| | |
| --- | --- |
| | SS7S has an incredibly, super, mega, ultra, advanced understanding of the Dragon Ball universe. Like, way more than you do. |

SS7S thinks that
Yamcha should get less respect than he actually does

| | |
| --- | --- |
| | SS7S thinks that Tien should get more respect than he actually does. |

SS7S thinks
Krillin sucks, and he really should've died more than four times.
Bored
I am bored.
As an IP, I was working on a what I would do if I could make a DBZ video game (on my Userpage). When I made an account, I transferred it to my Userpage. Soon it got large and sloppy looking, so I moved it to here, on DB Fanon Wiki. I work on it off and on as of now.