Ok, so recently I saw this image.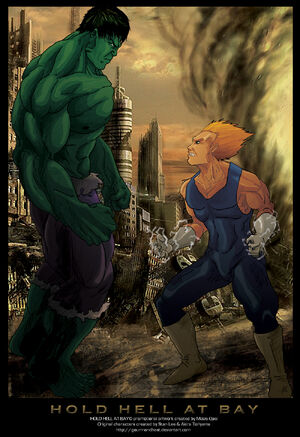 Strangely enough, this really got me thinking, who would win if Vegeta were to come up against the Hulk? Now, I know that this crossover thing has been going on for a while now, so the answer is probably on the interwebz somewhere, but what harm can there be in asking a group of avid Dragon Ball fans, eh?
Anyway, I've SORT of worked out both of their strengths and weaknesses.
Vegeta
Strengths
Very strong considering his size.
Very fast.
Energy blasts.
Super Saiyan transformations.
Fighting technique.
Can fly
Weaknesses
Doesnt know his limits
His anger can make his technique sloppy.
Isnt too bright (Makes rash, and sometimes foolish decisions)
Physically smaller than the Hulk
His pride
Limited supply of energy
The Hulk
Strengths
Extremely strong (Perhaps more so than Vegeta)
The angrier he gets, the stronger he gets.
A height and muscular advantage
Self healing
Near enough immune to any weapons in the MARVEL universe.
Tough skin (Which becomes tougher as he gets angrier)
Weaknesses
Lack of rational thinking
His muscle mass COULD slow him down, similar to the Ascended Saiyan form.
Cant fly, can only leap from A to B
Fairly dumb
His alter ego's traits which could sometimes seep through.
(Dont hesitate to point out any I've missed)
The Verdict
Well, as you can see, the two are fairly even. Which Is why I've had a bit of trouble coming up with an answer. Vegeta is strong, fast and is capable of ridiculously powerful bursts of energy, but is physically weaker than the Hulk. The Hulk is durable and very strong, but he doesnt possess a great deal of speed, or the abilities of flight and energy manipulation.
Hence, the answer is down to you. Who would win in a fight between these two? Because I really havnt the foggiest as to what the answer could be. ><