Some users dislike the current infobox image for the article Goku, so I proposed a change to his picture. 10X Kamehameha said that he prefers the current one, but said that he's only one user and if more people prefer a different image, then he won't say no.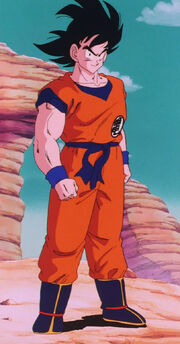 Here are a couple of arguments for each image:
Current: It is a high quality, full-length picture of Goku that shows his personality. On the other hand, his hair is not accurately displayed.

Proposed: It is a picture that shows Goku's appearance (his hair) more clearly, and also has an art style more consistent to the rest of the series. On the other hand, he looks rather serious, and he is not looking straight at the camera like many infobox images do.
Which image do you prefer?
EDIT: Apparently, this blog isn't good enough evidence. If you want to put in your 2 cents, go to Goku's talk page and say which one you prefer.