Often I hear Yamcha called useless, a wuss(even by Chris Sabat), or even a bad friend that mistreated Bulma. I really don't see these as making any sense.
In his first arc alone, Yamcha prevented the
gang
from dying many times. He brought carrot Bulma to
Goku
, destroyed a pillar in
Pilaf's Castle
that was about to crush Bulma, grabbed
Oolong
and Bulma then ran them to safety. Then finally he stuns the Great ape by leaping and grabbing its tail right as it had Bulma in its jaws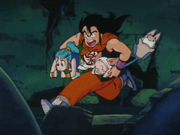 Yamcha is average compared to the
saiyans
and other alien fighters but he's more powerful then any human who is not
Krillin
,
Tien
, or
Uub
(if you count him as human). Isn't going to battle to help your friends knowing you're totally outmatched true courage?
Yamcha has been a stand up friend throughtout the entire series, when Tien apologizes for breaking his leg Yamcha completely accepts it in good nature. Even his infamous death to a Saibaman was the result of him volunteering specifically to protect Krillin from a second and final death.
As for Bulma, Yamcha did alot for her. He quickly went from an untamed bandit living in seclusion in the desert to a a civilized teen with a well paying job in the city. Their relationship ultimately ended after about 14 years but Yamcha remained friends with Bulma and her new family for years.
Basically I think more fans should realize a character don't need to be the strongest to be a great hero and extraordinary person.