No more questions will be answered.
Question
Edit
Where did you find the pictures (or screen shots) of Goten as a baby?—This unsigned comment was made by Collision3690 (talk • contribs) .
They appear in the ending credits of Dragon Ball Z: Bio-Broly. Jeangabin666 08:08, November 9, 2011 (UTC)
Hey man, I have seen your edits on pages alot! Especially uploading pictures, nice work! Are you still active?
 BardockGoku  talk  contribs 

11:08, February 9, 2012 (UTC)
heyy wazzup?

Gohanxox<3

13:02, February 10, 2012 (UTC)gohanxox
Question about Bulma Bath pic
Edit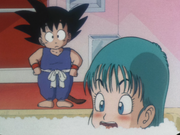 I have a question about how you got this picture. I have the season 1 DVD box set of Dragon Ball and but the bottom half where it shows Bulma's mouth in the bubbles is cut off. I would like to know where you found this episode in that quality or if you can help me get more pics from this scene. I run the Anime Bath Scene Wiki and would like to have all the current pics I have for this scene replaced with the ones that came from the high quality source of this specific picture. - Watermaiden15 03:42, April 18, 2012 (UTC)
Thank you for telling me about the high quality version. Now I can replace the Dragon Ball pics with the high quality ones like the ones you showed me. - Watermaiden15 23:04, June 1, 2012 (UTC)
Goku other world picture
Edit
Hey um. I just saw this picture http://dragonball.wikia.com/wiki/File:GokuSSOtherWorldEp194.png and Goku never went Super Saiyan while in Hell during that time. This is the real picture http://dragonball.wikia.com/wiki/File:GokuSuperSaiyanWithBlackHair.png. The only time Goku went Super Saiyan during that filler saga was during the World Tournament. So could you please remove the picture. TakaSasuke20 (talk) 21:50, August 1, 2012 (UTC)TakaSasuke20
Encyclopedia
Edit
Hi what's up? Now I know about the whole pic subject and how you left the wiki, but could you come back on encyclopedia? We really need more users there.
REDIRECT User:Raging Gohan/sig 23:03, August 20, 2012 (UTC)
Hello, Where did you find the Picture of King Vegeta Elite with Nappa and Kid Vegeta, in wich episode?
whats going on?  
Masami   ~ Talk

   19:20, February 21, 2013 (UTC)