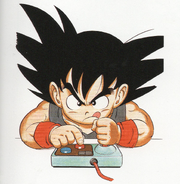 The following is a list of all video games released featuring the Dragon Ball series. As of July 10, 2016, they have sold a combined total of 41,570,000 units.[1]
Ordered by system
Edit
Console games
Edit
Super Cassette Vision
Nintendo Entertainment System/Famicom
Super Nintendo Entertainment System/Super Famicom
Nintendo GameCube
Wii
Nintendo Switch
Playdia
PlayStation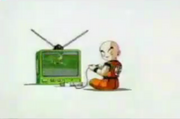 PlayStation 2
PlayStation 3
PlayStation 4
Sega Mega Drive/Sega Genesis
Sega Saturn
TurboDuo
Xbox
Xbox 360
Xbox One
Computer games
Edit
Apple Pippin
Microsoft Windows
Handheld games
Edit
Mobile Phone
Design Master Senshi Mangajuku
Game Boy
Game Boy Color
Game Boy Advance
Nintendo DS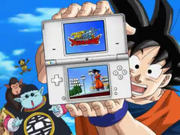 Nintendo 3DS
PlayStation Portable
PlayStation Vita
WonderSwan Color
Dragon Ball: Pilaf no Gyakushū
Dragon Ball: Taiketsu Son Gokū
Dragon Ball: Taose Piccolo Daimao
Dragon Ball: Kachinuke! Tenkaichi Budōkai
Dragon Ball Z: Ganbare! Son Gohan
Dragon Ball Z 2: Ikari no Kaiōken!
Dragon Ball Z: Saiya-jin no Moukou
Dragon Ball Z: Daikessen
Dragon Ball Z: Shutsugen! Ginyū Tokusentai
Dragon Ball Z: Kyōaku Freeza Shūrai!
Dragon Ball Z: Sukautā Batoru
Dragon Ball Z: Namekkusei Chō Kessen
Dragon Ball Z: Barcode Wars
Dragon Ball Z: Suupa Saiyajin Toujou
Dragon Ball Z: Taose! Garlic Jr.
Dragon Ball Z: Super Barcode Wars
Dragon Ball Z: Taiketsu Jinzōningen
Dragon Ball Z: Saikyō Taiketsu! Cell VS Gokū
Dragon Ball Z: Senritsu! Bio Soldier
Dragon Ball Z: Pawā Sakuretsu Son Gohan!
Dragon Ball Z: Z Senshi Dai Shugyō!
Dragon Ball Z: P-1 Mini 2
Dragon Ball Z: Syugyouda! Gohan! Mezase Tenkaichi
Dragon Ball Z: Touch Panel game
Dragon Ball Z: Fukkatsu! Majin Buu
Arcade games
Edit
Jakks Pacific
Let's! TV Play
Ordered by year
Edit
1986
1987
Dragon Ball Téléphone TV (Japan only)
1988
1989
1990
1991
1992
1993
1994
1995
1996
1997
2002
2003
2004
2005
2006
2007
Dragon Ball Z: Bakuretsu Impact (Japan only/arcade)
Dragon Ball Z: Shin Budokai - Another Road (JPN, U.S., EU, AUS)
Dragon Ball Z: Harukanaru Densetsu (JPN, U.S., EU, AUS)
Dragon Ball Z: Budokai Tenkaichi 2 (JPN, EU, AUS/Wii)
Dragon Ball Z: Budokai Tenkaichi 3 (JPN, U.S., EU/PS2)
Dragon Ball Z: Budokai Tenkaichi 3 (Japan & U.S./Wii)
Dragon Ball Z: Battle Taikan Kamehameha 2 (Japan only)
Dragon Ball Z: Scouter Battle Taikan Kamehameha (Japan and Mexico)
2008
2009
2010
2011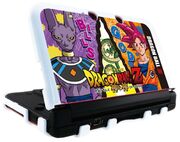 2012
2013
2014
2015
2016
2017
References
Edit
External links
Edit
Ad blocker interference detected!
Wikia is a free-to-use site that makes money from advertising. We have a modified experience for viewers using ad blockers

Wikia is not accessible if you've made further modifications. Remove the custom ad blocker rule(s) and the page will load as expected.