Directory: Techniques → Offensive techniques → Physical techniques
Volleyball Attack (排球拳, Haikyūken, lit. "Volleyball Fist") is a physical technique used by Tien Shinhan.
Overview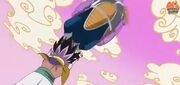 Tien uses his opponent as a ball and makes them fly with two hits before giving a final blow to stamp them into the ring. Tien uses this attack against Goku in final of the 22nd World Martial Arts Tournament. Years later, Gotenks uses this technique while fighting Aka.
Video game appearances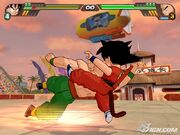 The Volleyball Attack is popular in the Budokai video game series, where two fused characters have it in addition to Tien: Super Buu (with Tien and Yamcha absorbed), and Tiencha. This move also appears in Dragon Ball: Raging Blast as one of Tien's Super Attacks, where it is renamed Open Ball Fist. In Dragon Ball Z: Ultimate Tenkaichi, the technique is once again called the Volleyball Attack and is one of Tien's Super Attacks. It can also be obtained (via Tien's training) as one of the Standard Hero's custom Super Attacks.
In Dragon Ball Xenoverse, it appears under the name Volleyball Fist and in addition to being one of Tien's Super Skills, it also appears as one of Piccolo's Super Skills which is likely a reference to his role in Charging Ultra Buu Buu Volleyball (another Volleyball themed technique) team attack with Gotenks. The Future Warrior can learn the technique as well.[2]
In Dragon Ball Xenoverse 2, Volleyball Fist returns as one of Tien's Super Skills in his Uniform 1 skillset, one of Piccolo's in his Demon Clothes 5 skillset, and one of Gotenks in his Matamoran Clothes 3. It can be learned by the Future Warrior (Xenoverse 2) by completing School Quest: "Lesson 1" of Tien's Training.[4]
Variations
Trivia
In a Japanese book, it is stated that the attack was named so because Tien often plays volleyball with Chiaotzu.[7]
It is one of two volleyball themed attacks in the series the other being Gotenks' Charging Ultra Buu Buu Volleyball team attack with Piccolo.
In Dragon Ball Xenoverse, when used by a Future Warrior with Male Voice Option 8 (which is actually the voice of Curtis Arnott/Takahata101, voice of TeamFourStar's Nappa from the Dragon Ball Z: Abridged online parody series) he will shout "Volleyball! Ball! Hit It! Hard!".[2][3]
Gallery
References