Directory: Techniques → Offensive techniques → Physical techniques
Wah-Tah Kick (華- Tahさんキック) is a kick attack used by Tambourine. Tambourine leaps and does a stereotypical kung fu movie pose kick.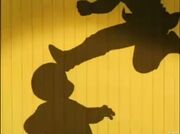 Tambourine first uses this technique to kill Krillin after the 22nd World Martial Arts Tournament. He later uses the Wah-Tah Kick against Pamput, after King Piccolo sends him to kill all the fighters that had entered a World Martial Arts Tournament. Pamput is fighting another opponent in a boxing match when Tambourine shows up, telling Pamput that he is there to kill him before delivering his deadly kick, killing Pamput instantaneously.