Walking Their Own Ways (それぞれの道をめざして, Sorezore no Michi o Mezashite) is the ninth episode of the Piccolo Jr. Saga and the one hundred thirty-first episode in the Dragon Ball series. The episode first aired on October 26, 1988.
Summary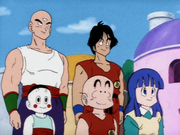 Tien Shinhan, Krillin, Yamcha, and Chiaotzu continue their search for Korin Tower. As they camp, Tien hears drums in the distance. Meanwhile, on Kami's Lookout, Mr. Popo plays hide and seek with Goku to teach him about concentration and finding people's ki. The two run around the lookout as Mr. Popo chases Goku (blindfolded) by following his spiritual energy. Goku tries running faster, but that does not work and Popo catches him and throws Goku to the ground.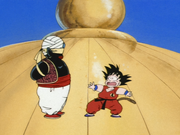 The boys are ambushed by people in devil masks. The people are friendly and one of them, Mint, invites the boys to their festival. They live in a small village at the base of a large mountain that the townsfolk consider to be their protecting god. Suddenly, crows fly up, a bad omen to the people. Goku continues his training with Popo, Goku just can not evade Popo. Goku has his turn to chase Popo, but he fails. Goku is again having a very difficult time concentrating his mind.
As the festival continues, Chiaotzu senses something wrong, but cannot pinpoint it. It has something to do with the mountain. A stranger gives Krillin alcohol and he quickly gets drunk. Tien is challenged by the largest man in town, Paul, who is also Mint's brother. Krillin, being drunk, wants to fight the man first, something he would not do sober, to impress Mint. Krillin defeats him with a headbutt. The animals of the town start to panic, Chiaotzu exclaims, that the mountain is going to explode. Turns out the mountain is actually a volcano. It erupts and the villagers panic. The boys go to the volcano to change the course of the lava.
Gallery