This article is about the
real world.
Wayan Budhiyasa (ワヤン・ブディヤサ) is a spectator who attended the 21st World Martial Arts Tournament that can be seen in Dragon Ball chapter 32, "Let the Contest Begin!!" He is seen outside the gates when Goku, Krillin and Master Roshi arrive at the World Tournament.
Overview
Wayan Budhiyasa is an actual person that Akira Toriyama met while on vacation in Bali, Indonesia, with his wife. As a token of his appreciation for Budhiyasa showing them around the island, Toriyama drew a caricature of him in the Dragon Ball manga and made a appearance in the anime.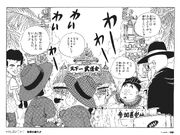 Budhiyasa's name is located in two parts of the manga panel: printed on his shirt, and on the bottom of the Bali sticker on Master Roshi's suitcase. During an interview, Toriyama mentions him as his "Bali Friend", introducing him by name, a direct clue to the identity of the, until then, anonymous character.
External links