This article is about the
real world.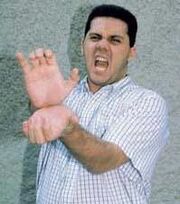 Wendel Bezerra is a Brazilian voice actor.
Biography
He is the brother of Úrsula Bezerra, who voiced Kid Goku in Dragon Ball and Dragon Ball GT and Ulisses Bezerra, who voiced Salza in Dragon Ball Z - Cooler's Revenge. In Dragon Ball series, Wendel Bezerra voiced Goku as an adult. Some of his other roles as a voice actor are SpongeBob SquarePants in the namesake series, Sanji in One Piece, Shining Armor in My Little Pony: Friendship is Magic, Trowa Barton in Gundam Wing, Shotaro Kaneda in Akira, among others.[1] He also dubbed actors like Ryan Gosling, Sean Astin, Chris Evans and others in many movies. He also dubbed Goku in the live-action film, Dragonball Evolution.
References