Western Supreme Kai
Talk

1
4,938pages on
this wiki
Directory: Characters → Deities → Kaioshin
Western Supreme Kai (西の界王神, Nishi no Kaiōshin) was the ruler of the Western Quadrant of the universe.
Biography
Edit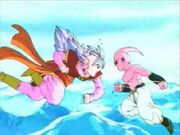 Western Supreme Kai was the only female Supreme Kai. She was a young, beautiful, and playful goddess. Western Supreme Kai was the first to be killed by Kid Buu when he was under the control of Bibidi. They fought in an arctic place. Even when fighting at her best, she still was no match for Buu, and he easily killed her with a blast to the back.
Special abilities
Edit
Video game appearance
Edit
Her death is chronologically the first known death of a named character in the series.