Will Goku Make it in Time?! Three Hours Until the Battle Resumes!
Talk

0
Share
Will Goku Make it in Time?! Three Hours Until the Battle Resumes! (間に合うか孫悟空!?戦闘再開まで3時間, Maniau ka Son Gokū!? Sentō Saikai Made Sanjikan) is the eleventh overall episode in the Dragon Ball Z Kai series. The episode first aired on June 14, 2009. Its original American air date was June 3, 2010. Its Dragon Ball Z counterparts are "Nappa's Rampage" and "Nimbus Speed".
Summary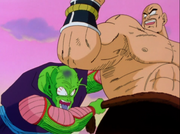 Goku fails to arrive within the three-hour reprieve and the battle with the Saiyans recommences. At that moment however, Goku finally reaches the end of Snake Way, is teleported back to Earth by Kami, and flies straight to the battlefield on the Flying Nimbus. Upon receiving word of Goku's impending arrival on his scouter and discovering that his power level is now far greater than before, Vegeta orders Nappa to kill the remaining Z Fighters, including Piccolo, claiming that they can later go to Namek and use the Namekian Dragon Balls. Nappa fires a Bomber DX at Gohan, but Piccolo jumps in the way at the last second to shield Gohan from the blast.
Gallery
Ad blocker interference detected!
Wikia is a free-to-use site that makes money from advertising. We have a modified experience for viewers using ad blockers

Wikia is not accessible if you've made further modifications. Remove the custom ad blocker rule(s) and the page will load as expected.