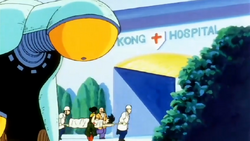 Wukong Hospital is an extremely large general hospital in West City.
Overview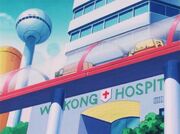 The roof is marked with a gigantic cross sign. The hospital rooms are fairly wide, to the extent that they can comfortably house nine people. There are different types of hospital beds, both normal beds and ones for critical patients.[1]
Goku, Gohan, Krillin, and Yajirobe all received treatment here after being severely injured in the battle with Vegeta.
Trivia
References
Ad blocker interference detected!
Wikia is a free-to-use site that makes money from advertising. We have a modified experience for viewers using ad blockers

Wikia is not accessible if you've made further modifications. Remove the custom ad blocker rule(s) and the page will load as expected.